トランプ大統領ほど世界中で嫌われているアメリカ大統領は珍しいでしょう。
President Trump is a rare American president to be hated around the world that much.
でも実は日本ではトランプさんは比較的人気があります。
But actually, Trump is relatively popular in Japan.
といっても、全員ではありません。もちろん日本にも嫌っている人はそれなりにいます。
Ofc it doesn't mean everyone loves him. There are a certain amount of people in Japan who don't like him, too.
トランプ大統領は関税などで日本を攻撃したこともありますし、黒人やいくつかの国々への差別発言や失言の数々、そしてコロナ対応の失敗なども日本である程度報道されていました。
President Trump has attacked Japan for tariffs and other things before, and his discriminatory comments and gaffes against black people and some countries, as well as his failures for the coronavirus, were reported in Japan to a certain degree.
しかし、日本では「あの人はトランプだから仕方がない」「またなんかやらかしたのかw」といった感じの反応が多く、あまり個々の問題を気にしていない人が多いです。
However, many people in Japan don't pay much attention to each of his failures, and the reaction would've been often like, "He's Trump, so it couldn't be helped" or "He's done something else again? lol", or something like that.
最近行われた調査によると、世界で最もトランプ大統領を支持している人が多い国が日本だったそうです。
According to a recent survey, Japan was the highest country in the world with the approval rate for President Trump.
多少攻撃的な言い方であっても、考えていることを正直に話すトランプ大統領は、これまでのアメリカ大統領よりも信頼できると感じている日本人は多いです。
Many Japanese feel that President Trump is more trustworthy than previous U.S. presidents because he is honest about what he is thinking, although he says it in a somewhat aggressive way.
私を含め、だいたいの日本人は昔のアメリカやアメリカの文化が好きなので、同じく昔のアメリカが大好きなトランプ大統領とは価値観が似ているところもあるのだと思います(笑)
Most Japanese, myself included, love the old days' America and American culture, so I think some of our values are similar to those of President Trump, who also loves the old days' America, haha.
先日、トランプ大統領がコロナウイルスに感染してしまいましたが、そのニュースに対する日本のSNSやニュースサイトから集めた日本人の反応を翻訳してみます。
The other day, President Trump was infected with the coronavirus, and here's my translation of Japanese reactions to the news, gathered from Japanese social media and news sites.
大統領
president (of a nation or company)
chief executive
big man
boss
buddy
mate
嫌う
to hate
to dislike
to loathe
珍しい
unusual
rare
curious
new
novel
fine (e.g. gift)
実は
as a matter of fact
by the way
to tell you the truth
to be honest
frankly
比較的
comparatively
relatively
人気
popularity
public favor
condition (e.g. market)
tone
character
nature
全員
all members
all hands
everyone
everybody
whole crew
関税
tariff (import tax)
duty
customs
攻撃
attack
assault
raid
onslaught
offensive
criticism
censure
denunciation
condemnation
差別
distinction
differentiation
discrimination
discrimination (against people)
発言
statement
remark
observation
utterance
speech
proposal
失言
verbal gaffe
verbal slip
slip of the tongue
using improper words
数々
often
again and again
frequently
repeatedly
対応
correspondence (to)
equivalence
suitability
coordination
matching
being appropriate (for)
dealing with
coping with
handling
response
reception
reaction
compatibility (with technology, software, etc.)
capability
support (for)
ある程度
to some extent
to a certain extent
報道
information
report
journalism
news
to report
仕方がない
there's no (other) way
cannot be helped
unavoidable
inevitable
(there's) nothing one can do
having no choice
it's no use (doing)
pointless
useless
no good
insufficient
not enough
hopeless (person)
annoying
troublesome
awful
cannot stand it
unbearable
cannot help (doing, feeling)
dying (to do)
やらかす
to fail
to blunder
to make a mess
to perpetrate
to do
to drink up
to eat up
個々
individual
one by one
separate
each
問題
question (e.g. on a test)
problem
problem (e.g. societal, political)
question
issue
subject (e.g. of research)
case
matter
question (i.e. doubt)
public discussion
controversy
trouble
problem
inconvenience
difficulty
行う
to perform
to do
to conduct oneself
to carry out
調査
investigation
examination
inquiry
enquiry
survey
支持
support
backing
endorsement
approval
support
holding up
propping
多少
more or less
somewhat
a little
a few
some
amount
quantity
言い方
way of saying (something)
way of putting it
wording
phrasing
language
expression
正直
honest
frank
candid
straightforward
honestly
frankly
信頼
reliance
trust
faith
confidence
含める
to include (in a group or scope)
to instruct
to make one understand
to include (a nuance)
to put in (an implication)
to put in (someone's) mouth
to permeate with flavor
同じく
similarly
same (idea)
same (name)
大好き
loveable
very likeable
like very much
価値観
sense of values
values
value system
似る
to resemble
to look like
to take after
to be similar (in status, condition, etc.)
to be close
to be alike
to be like
先日
the other day
a few days ago
感染
infection
contagion
becoming infected
集める
to collect
to assemble
to gather
---
[ Voice of Japan ]
・これ大統領選どうなるの?
What will happen to this presidential election?
・これは終わったんじゃね?
This is over, right?
・マスクしないから…
He didn't wear a mask. That was the reason…
・最初軽症でも一気に悪化。コロナのパターンはこれやから怖いわね
Starting from mild, but turns into serious all of a sudden. This is why the coronavirus pattern is so scary.
・重症化してないなら何より。早く回復してくれ…
I'm glad to hear that he won't be at a critical condition. Trump, I want you get well soon…
・世界で一番影響大きい人物がなってしまったな
The most influential person in the world has infected.
・とにかく症状が悪化しないことを祈ります
Anyway, I hope your symptoms don't get worse.
・株価大暴落不可避
Stock prices will inevitably plummet.
・予 測 不 能  す べ て の 事 象 が ひ た す ら 予 測 不 能
U n p r e d i c t a b l e. A l l e v e n t s a r e u n p r e d i c t a b l e.
・お互いにコロナ陽性者を敵陣営に送ってそうw
I guess they both send infected people to the enemy camp, lol.
・てか、これバイデンの方が危険じゃね?
Wait, Biden can be more dangerous (considering his age), right?
・武漢ウイルスでアメリカ大統領が死にでもしたら戦争なるで
It would be the beginning of a war if Wuhan virus(Covid-19) kills the president of America.
・のちの時代に第三次世界大戦の引き金として語り継がれる事件であった
It was an incident that would be handed down generation to generation as the trigger for World War III.
・中国が最近暴走ぎみやしトランプに大統領やってほしいんやけどなぁ
China's been going out of control lately, so I want Trump continue to be the president.
・これでバイデン当選とかなったら日本終わりやろ
If this gets Biden elected, I guess it's the end of Japan.
・バイデンの陰謀説
My Conspiracy theory: Biden did it.
・だからバイデンが勝つって言ったろ?
I told you guys that Biden was going to win.
・とうとう中共のウイルス兵器が米国大統領まで襲ったか。中国もやりすぎたと焦ってるだろうな
At last, the CCP virus weapon has struck the President of the United States. I'm sure China is worrying for having done too much.
・よし、イヴァンカを大統領にしよう
Okay, let's make Ivanka president.
・トランプ大統領、メラニア夫人、側近の方々が早く回復してほしいです。
I hope President Trump, Mrs. Melania and their entourage recover quickly.
・これコロナからの復活劇やってUSA!USA!ってやるつもりちゃうん?
I'm guessing they're going to do a Resurrection Drama and say "USA! USA!" together, right?
・普通に歩いて搭乗するなど体調は悪くなさそう
He's in good physical condition, walking normally on the plane.
・うそぉ要人はこっそりワクチン打ってると思ってたわ
No way.., I thought all the bigwigs were secretly vaccinated.
・コロナ軽視で自国民大量に死なせたから自業自得だわ
He's let a lot of his own people die because of his disregard for the coronavirus, and he's had it coming.
・元気になったときに「すまない、マスクは着用した方がいい」って言ってマスク着けてたら世界的にマスク着用率上がりそう
If he says, "I'm sorry, you should wear a mask" when you get well, and he wears a mask, the rate of mask wearing would go up worldwide.
・これ死んだら間違いなく今後100年は教科書に載る事態になるだろ
If it makes him die, it's definitely going to be in the textbooks for the next 100 years.
・ウィルスを意図的に感染させたヤツはいないのか? いるのが自然な気がするが
Was there anyone who intentionally infected him with the virus? It feels like more natural to be there.
・トランプより習近平の方が感染してほしかった
I wanted Xi Jinping to be infected not Trump.
・今頃ぷーさん笑いが止まらないだろうなあ。回復できることを願ってるよ
I'm sure that Winnie-the-Pooh can't stop laughing right now. I hope you can recover.
・習近平が小躍りしてる姿が目に浮かぶw
I see Xi Jinping is dancing with joy, lol.
・心ないことを言うアホも居るが、日本人の大部分は軽症で済むことを願ってるぞ。回復後は万全の感染症対策をとり、またウィルスと戦う意志を改めて示してくれ。
There are some mindless assholes out there, but most of the Japanese are hoping it won't be that bad. When you recover, take all possible measures to prevent infection and show your guts to fight the virus again.
Japan: "Mr. president…., what did you say…!"
Trump: "I really can't stand up with the Japanese virgin-killing-virus!"
Trump: "I've decided to close the border, so Japanese people can't go to the U.S and Americans can't go to Japan until the pandemic is over"

"What if the world leaders go to the Japanese high school"
This is a bit old pic. I personally like the Chinese leader's cool throwing skill, haha.

I have to say this affected to the Biden's popularity badly in Japan since we love anime girls, lol.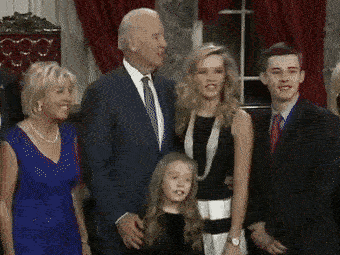 I think there're 4-5 possible reasons why Biden isn't really popular in Japan as far as I know.
1. Biden isn't famous in Japan (Trump is really famous in a good way and bad way)
 (UPDATE: ↑Now he's been getting famous here due to his son's sex video with a Chinese girl and the niece of his son)
2. Some Japanese people suspect Biden has dementia (Actually, both of them have the same issue, lol)
3. Some Japanese people suspect Biden's son has something to do with CCP
4. Some Japanese people thought his body contacts to kids looked a bit weird
5. Japanese leftists (They tend to be pro-China) think he could be just another rightwinger like Trump so they can't be sure if he is a better option
Joe Biden: 'I'm Going to Beat Joe Biden'
Donald Trump: '220'
— 🇺🇸Proud of my TDS🇺🇸 (@richyritsch) August 22, 2020


Joe Biden brags about having "the most extensive and inclusive voter fraud organization in the history of American politics"
何を血迷ったのか、突然

「我々はかつてない最大規模の不正投票組織を設立した」

とうっかり発言してしまったバイデン氏。

Twitter民、困惑。支持者、沈黙。pic.twitter.com/ekpR88idlG

— Blah 🇺🇸 (@yousayblah) October 24, 2020

To be honest, I want a politician like him in Japan, haha.



"What if he was a stand?"